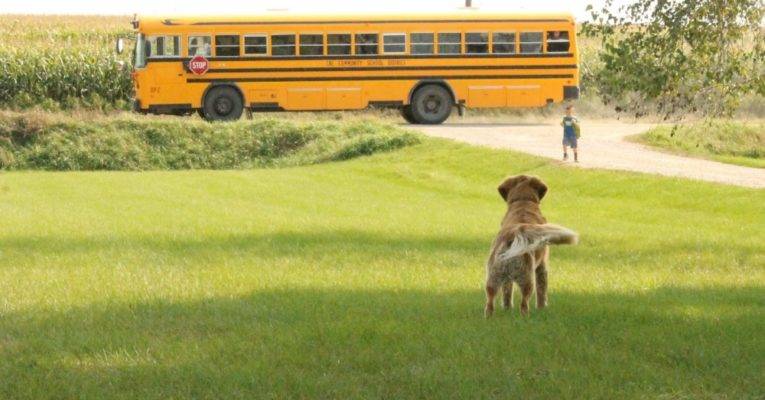 Back to school
Does your pet get the 'back to school blues' along with your kids?
September will be here before you know it. For many, that means it is back to school or off to college for the first time. This can be an exciting but sometimes very hectic time of year, as routines are changing and days are adjusting to busier schedules. What many pet parents do not realize is that this can cause stress, sadness and anxiety for both cats and dogs. Before sending the kids off to school, it's important to do your homework on how to reduce your pet's anxiety and help to make it a smooth transition into the fall season.
After spending the summer with a full house, a pet may feel depressed when all of a sudden his/her people go missing during the day. If that stress isn't properly addressed, it can lead to separation anxiety and even behavioral issues.
A few signs that your pet is experiencing anxiety may include:
accidents in the house
barking excessively both inside and outside
displaying irritability (growling or even biting)
losing his/her appetite
engaging in destructive behaviors.
5 tips to keep your pet happy and well-adjusted at the start of the school year:
Set healthy goals for your pet. Daily exercise is essential to help combat stress. As this quote states: "A tired dog is good dog." Adding extra exercise to their day will burn off energy and help to curb boredom. For cats, be sure to provide exercise for the mind as well as the body. A new toy or playtime will influence your pet's overall well-being.
Maintain a routine. This may be difficult to do in its entirety, but try to maintain as much as routine with your pets as possible. Stick to a consistent meal schedule, walk times, bathroom breaks etc. This way, the transition from summer to fall won't have as much of an impact on your pet's stress levels.
Some extra love and affection won't hurt! Random pats on the head, belly rubs and hugs will help to keep your pet feeling secure and loved during this chaotic time of year. It may be a good time to freshen up on his or her training too in order to build confidence!
Are you stressed? With so much change it's only natural for parents and children to feel anxious, too. Your mood and emotions matter to everyone in your household, including your pets. Do your best to stay cool, calm and collected in hopes to help pass that energy off to Fido or Fluffy.
Share a calming and soothing chew or elixir with your pet. Hemp-derived nutraceuticals for animals are becoming more popular.
Hemp can help
Hemp CBD products from Dee-O-Gee all contain phytocannabinoid rich oil extracted from whole plant medicinal grade hemp grown in the USA. Adding Hemp CBD products to your pet's routine can help them through the many lifestyle changes presented during the new school year.
Phytocannabinoids are very effective in bringing calm and balance to pets suffering from a myriad of conditions including anxiety, separation anxiety, mobility issues, inflammation, general pain, joint pain, loss of appetite, effects from cancer and cancer treatments, seizures, end of life comfort, and more.
This is because all animals have an endocannabinoid system that assists in maintaining the physiological, neurological and immunological systems of the body. If there is a deficiency of endocannabinoid production, the system's multiple receptors will utilize the addition of phytocannabinoids to help create balance and provide support for relaxing, repairing or restoring.
Overall, as the fun of summer comes to an end, be sure to follow these tips and stock up on treats, chews and toys for your four-legged friend!