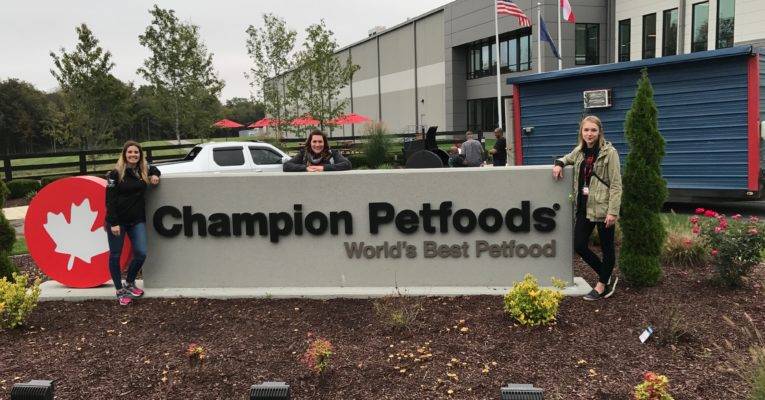 In the fall of 2017, Dee-O-Gee was part of a small select group of retailers that were invited to tour Champion Pet Foods' award-winning DogStar Kitchens in Kentucky.
Purpose-built from the ground up, the state-of-the-art DogStar kitchens were IMPRESSIVE, to say they least. Situated on 85 acres of farmland in Kentucky and designed to make the best and safest dog and cat foods on earth, DogStar kitchens exceed the regulatory requirements and track and trace capabilities expected of human food facilities.
Holly (owner), Ren (Sales & Marketing Manager) and Shanna (Purchasing & Receiving Coordinator) got to spend 2 days with the Champion Pet Foods team, visiting the factory and local farmers and ranchers that make up the supply chain for their premium pet foods.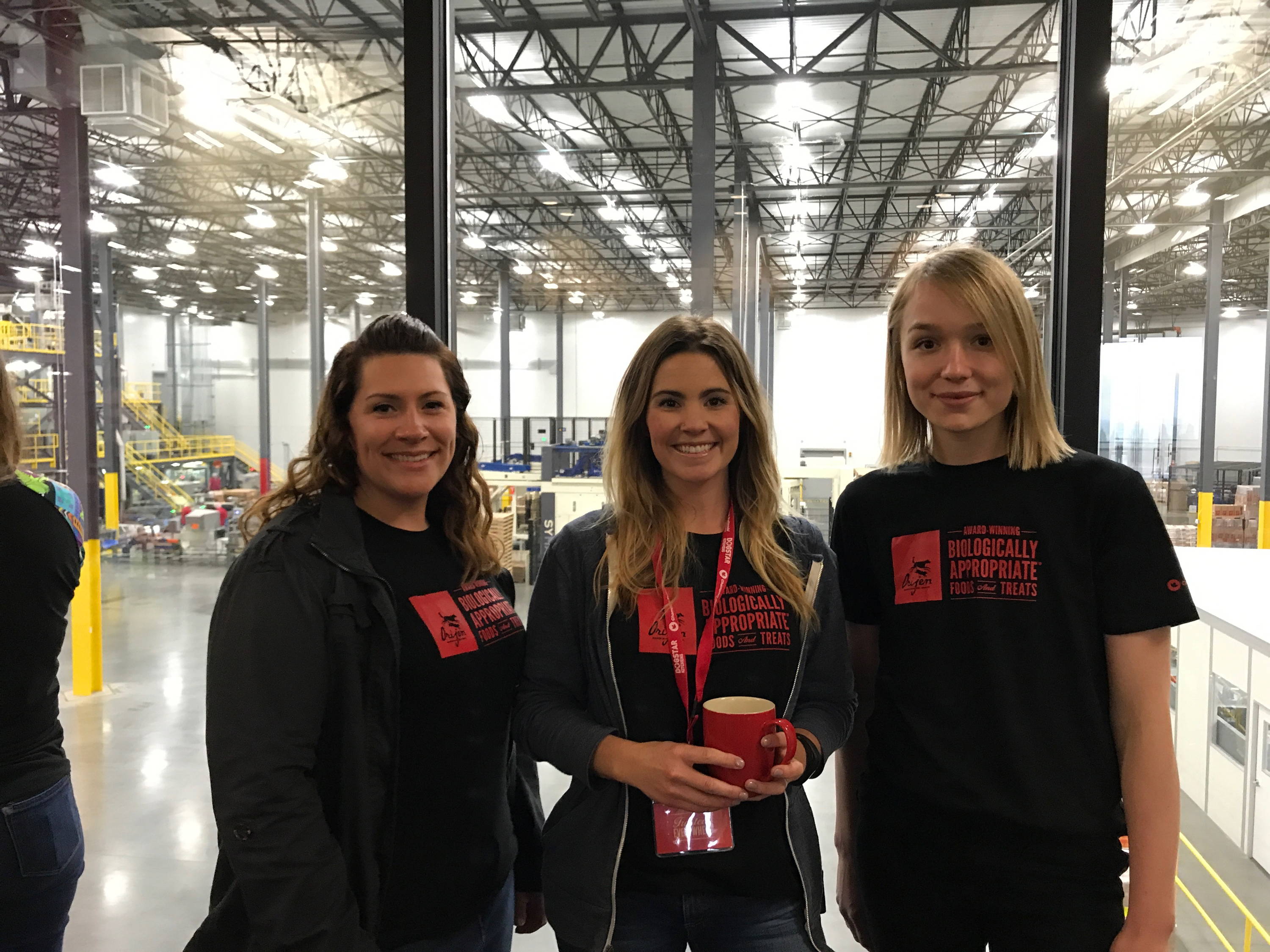 All of the Orijen and Acana products that are sold at independent pet stores across the USA are made at the DogStar Kitchens in Kentucky.
The "fresh never frozen" approach that Champion utilizes for their ingredients in Orijen and Acana are all possible because of the location. From fresh fish to pasture raised lamb and beef, all of it is delivered daily to DogStar.
"We had to see it to believe it … and, we were amazed when we were able to visit the farms, ranches, lakes and fields where all of these ingredients are coming from," stated Shanna.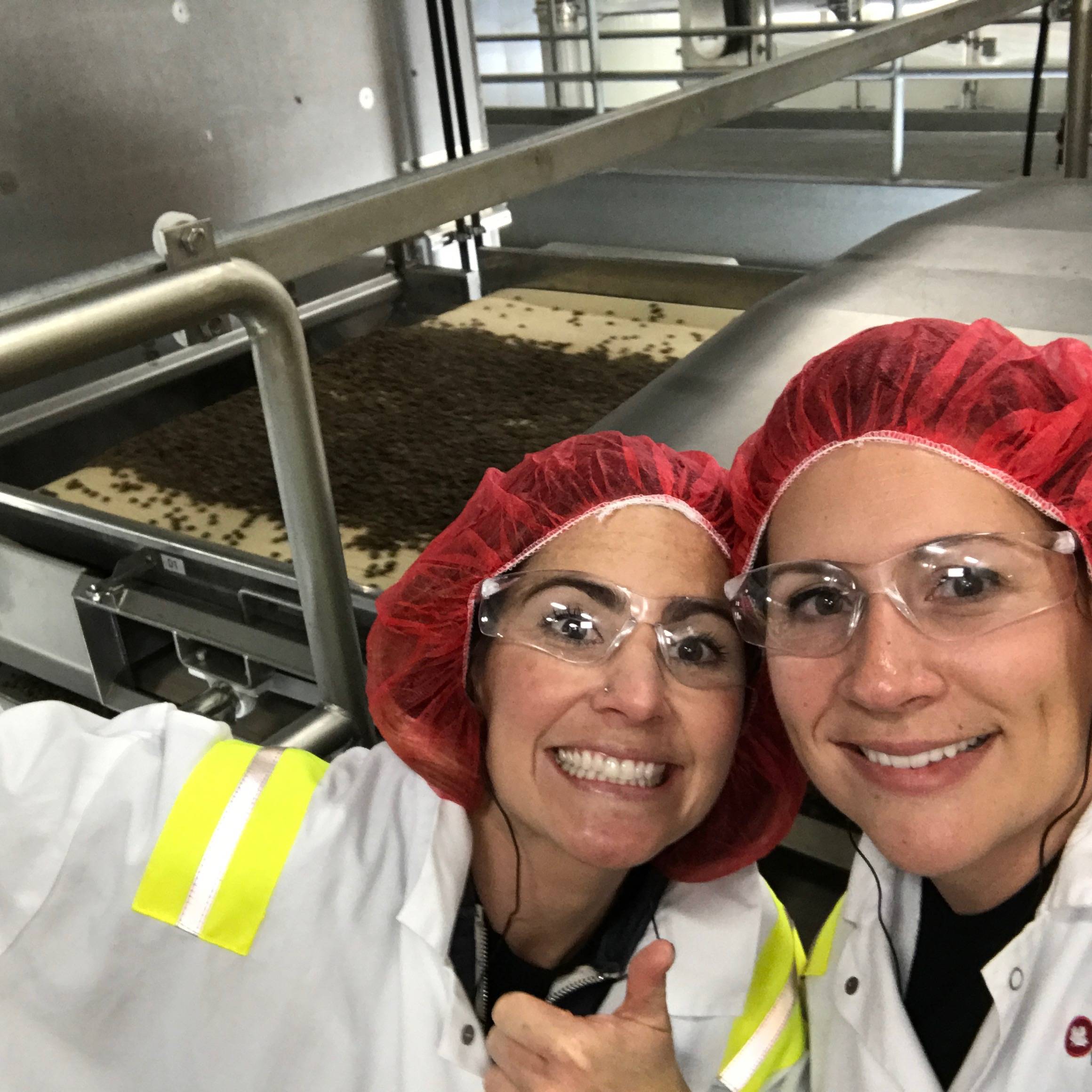 Ren and Holly at the Champion Pet Foods DogStar Kitchens.
This was my first visit to a pet food manufacturing and the bar was set very high! Every detail was thought about when the DogStar Kitchens in Kentucky were built out. The thing that sets it apart in my mind is the relationships Champion has with their suppliers who are incredibly committed to the quality and sustainability of ingredients they use to make the worlds best pet food.
- Ren Douthit -
Sales & Marketing Manager, Dee-O-Gee BZN
Our customers love Acana because:
The formulas are rich in meat and protein, with lots of fresh meat inclusions. The meat ratios in the foods are "whole prey", closely resembling a diet that is ancestrally accurate. The fish in these formulas are wild-caught and never frozen. The botanicals are all locally grown and delivered to the DogStar Kitchens daily. All-in, the ACANA dog & cat foods are some of our most popular and highest quality products we could sell … we are confident your furry kiddos will thrive on ACANA!
Our customers love ORIJEN because:
ORIJEN is derived from the latin term "origin" – meaning source of beginning. Born from a desire to mirror the diet that dogs and cats have evolved to eat, ORIJEN is the fullest expression in the pet industry of a biologically appropriate pet food made with fresh regional ingredients. Inspired by a natural diet of whole prey animals, ORIJEN features unmatched and unique inclusions of meat, naturally providing everything your dog or cat needs to thrive. With a reputation of trust spanning more than a decade, ORIJEN is guaranteed to give you peace of mind and keep your cherished companion happy, healthy and strong.
Champion Pet Foods offers both of their popular Orijen and Acana brands in kibble and freeze-dried form.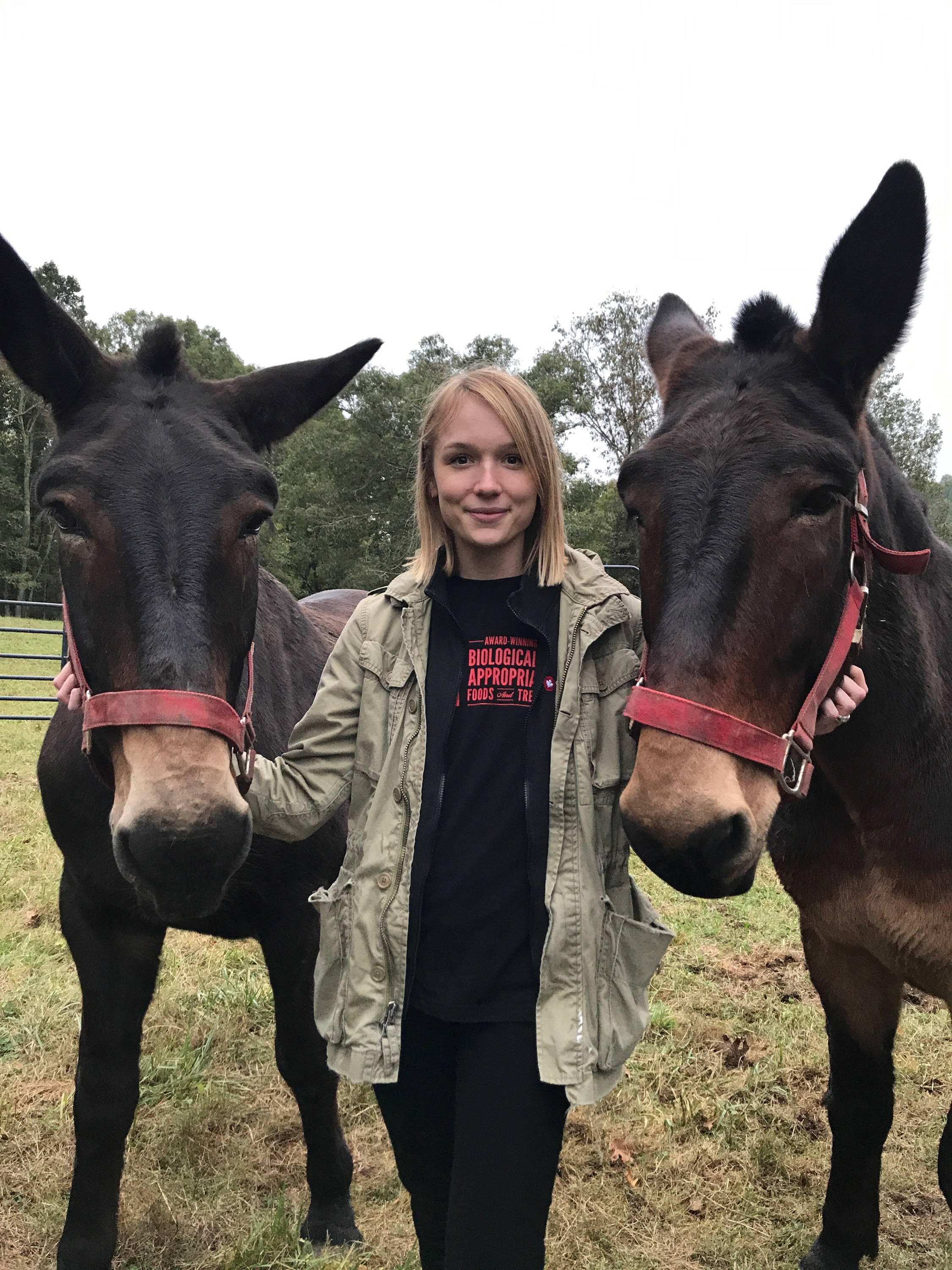 Shanna enjoyed getting to know some of the 'staff' at one of the farms.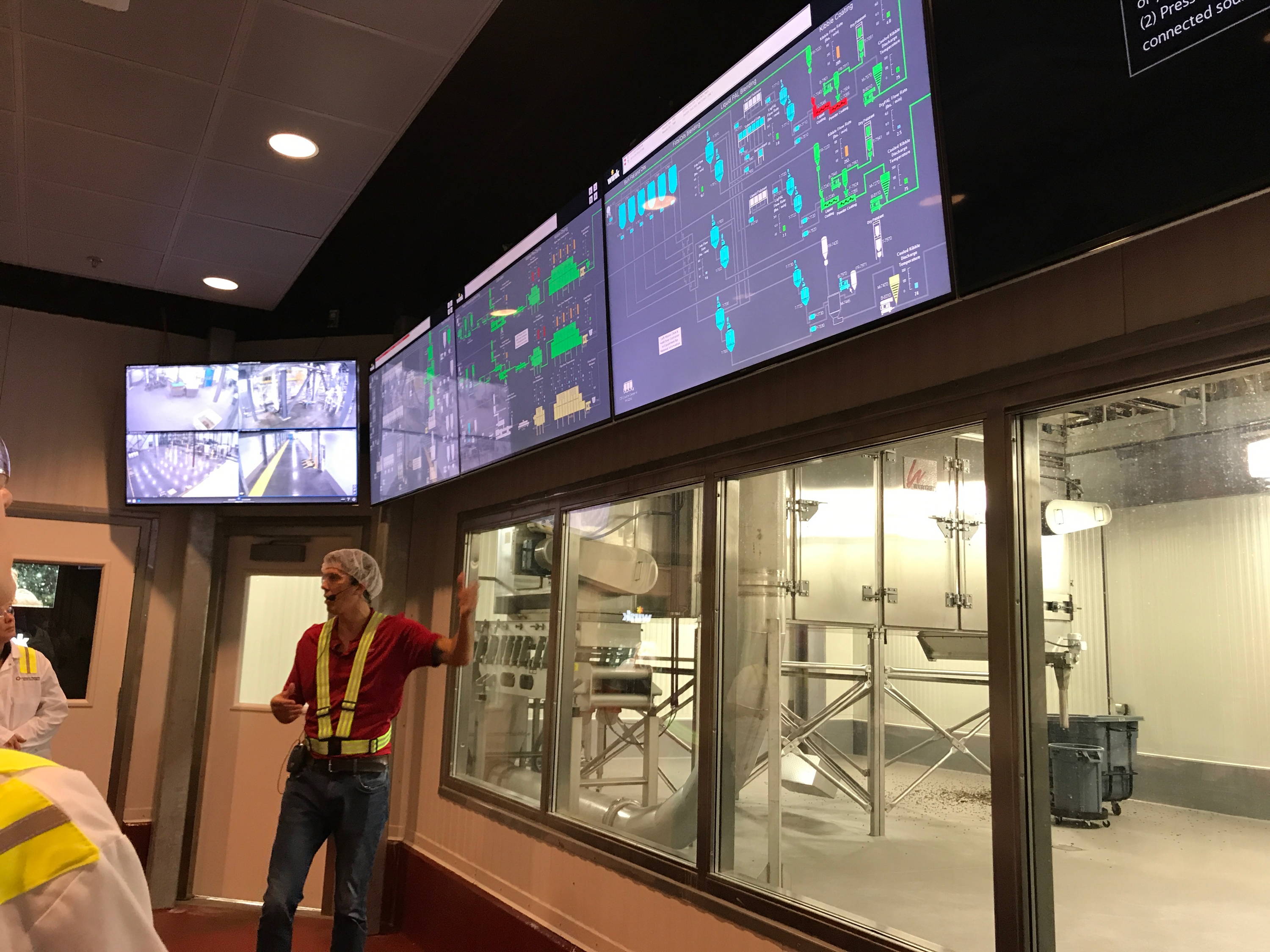 A view of part of the control room at the DogStar Kitchens.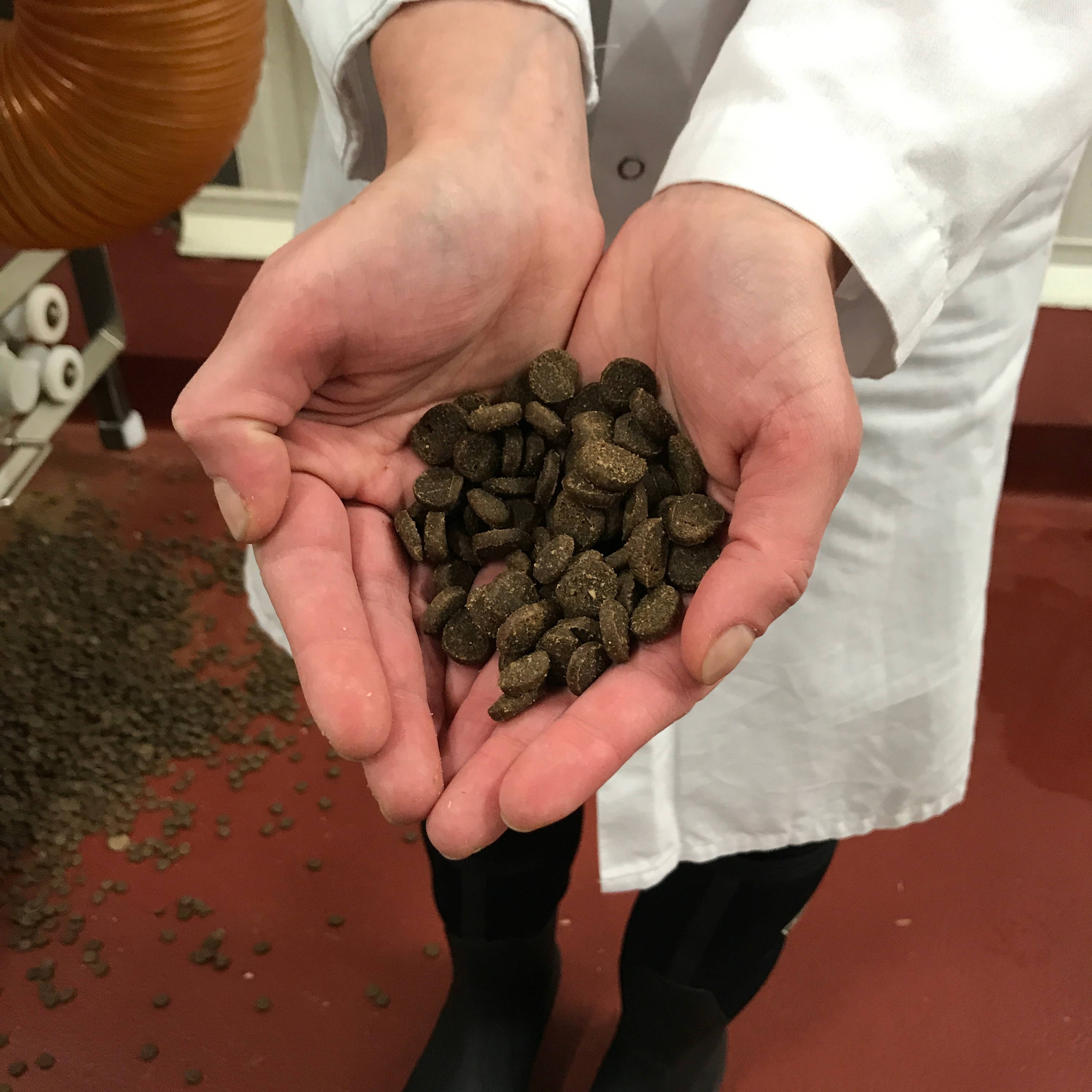 All-natural dog kibble, hot off the "press" at DogStar Kitchens.
.
We have been offering Orijen and Acana at our Dee-O-Gee locations for a long time and I've always been impressed with them. Both of these brands have been helping us help local dog & cat owners in Bozeman for almost a decade. But, after visiting their new production facility in Kentucky, I am even MORE impressed with their quality of ingredients and commitment to delivering top-of-class dog & cat food.
- Holly Allen -
Founder, Dee-O-Gee BZN
My favorite part of our trip to the DogStar campus was experiencing the dedication that Champion puts into everything that they do; their industry leading innovation is inspiring … and, my dogs LOVE their food!
- Shanna Rottloff -
Purchasing & Receiving Coordinator, Dee-O-Gee BZN
As impressive as seeing all of the supply chain for the Acana and Orijen dog & cat food ingredients was … the production facility was even MORE impressive! Holly, Ren and Shanna all reported that they were SO impressed by the quality control measures, the cleanliness and the technology involved to operate the Kitchens.
"Being able to see, smell and touch the ingredients (at the source) and then inside the production facility was an incredible experience that brought the entire process full circle for us", states Holly.
See video below about Champion Pet Foods vision for the DogStar Kitchens and how they brought it to life.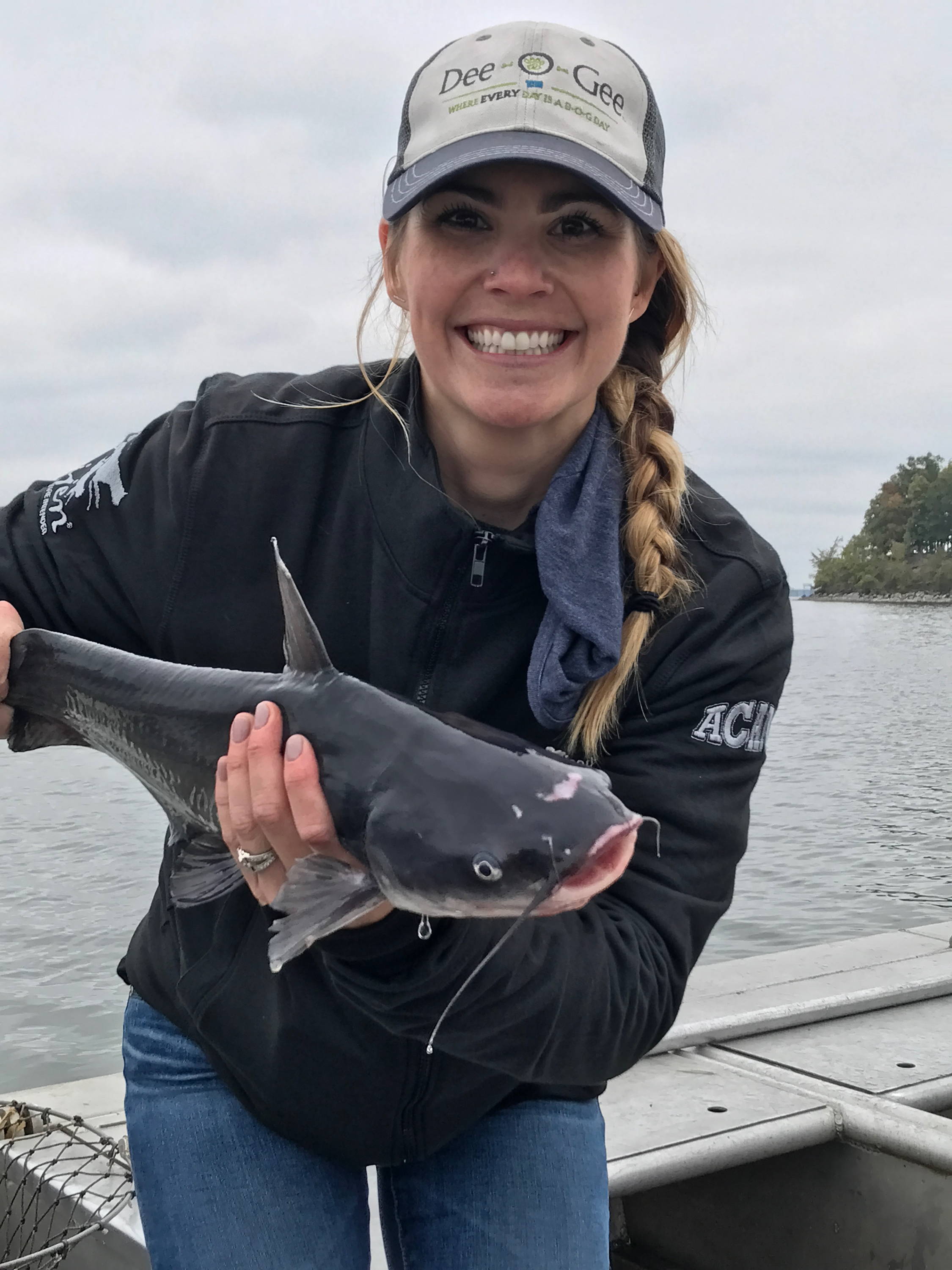 Holly found some catfish in a local lake that is a source for Orijen's '6 Fish' formula.
Not your typical online retailer

Did you know?
Dee-O-Gee is an authorized premier online retailer for ORIJEN and ACANA!
At Dee-O-Gee, we are an award winning chain of locally owned brick & mortar stores, with an e-commerce store. We are NOT a big online-only warehouse (ahem, Chewy or Petflow) that haphazardly throws your products in a box.
We have a team of Pet Nutrition Experts from our retail outlets that personally vet, test (with their own dogs and cats) and critique all of the products we offer on our website. So, you can rest assured that everything you buy (including ORIJEN and ACANA) from Dee-O-Gee.com is safe and awesome!