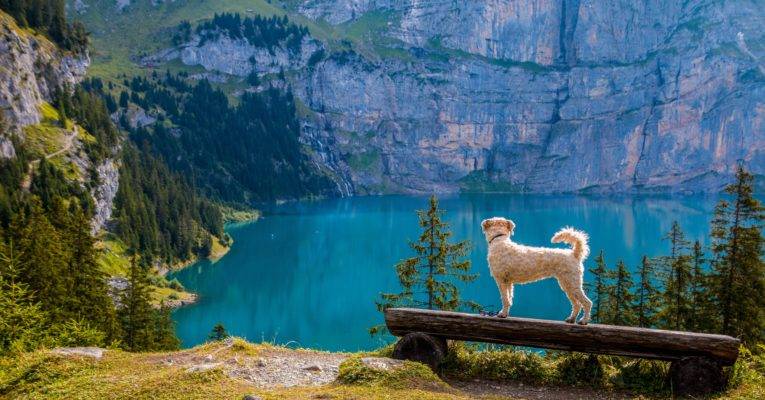 Our pets love summer just as much as we do! For many, summer is the best time of year to be outside, enjoying the beach or the mountains with your dog. While it's so great to be able to take your dog with you on picnics, to the lake, hiking, swimming or running – keep in mind that the warm summer weather can be dangerous for your dog. Use these dog summer safety tips to ensure "furry" success this summer!
Dog summer safety tips
We've assembled 6 easy summer safety tips for your dog that you can use to keep your dog cool and calm while you are out adventuring with your furry kid!
1) Never leave dogs in the car unattended. While it might not feel hot on a 78 degree "perfect" summer day, the inside of the car can quickly reach 98 degrees and 140+ degrees if parked directly in the sun. Dogs can develop heat stroke in a matter of minutes while in hot car conditions. It's best to leave your dog at home or drop them off at daycare while you run errands. Or, make sure to bring a leash, bowl and some cold water with you so that you can take your dog with you on your errands.
2) Protect dogs from common pests. If left unprotected from fleas, ticks and mosquitoes, dogs will be at risk for Lyme disease, Rocky Mountain spotted fever, and other similar conditions. A natural flea & tick remedy is recommended by Dee-O-Gee!
3) Keep dogs' paws cool. When the summer sun is cooking, surface like asphalt or metal can get really hot! Try to keep your dog off of hot asphalt – not only can it burn their soft pads, but it can also increase their body temperature and lead to overheating.
4) Keep your dog calm and collected. Dogs can get very stressed and nervous around thunderstorms or fireworks, often causing unruly behavior or causing your dog to flee. Keep your dog calm and reduce their stress, learn more here.
Relaxation and anti-anxiety supplements

Is your dog anxious, hyperactive or destructive?
Separation, travel, new environments, loud noises, and guests can cause cowering, trembling, nausea, pooping, destructive behaviors, and hyperactivity.
Help your dog achieve calm relaxation with the best, all-natural anxiety relief nutritional supplements in a variety of stressful situations:
Thunderstorms or fireworks
Trips to the vet or groomer
Introducing a new baby or pet
Separation anxiety
Travel or car rides
Destructive behavior when left at home
Hyperactivity and jumping on guests
5) Dogs can get sunburns. Believer it or not, dogs can sunburn – especially those with short or light colored coats! And, just like people sunburns can lead to skin disease or cancer. Also, make sure to protect their nose from sunburns too!
6) Keep dogs safe in cars while traveling. When traveling more in the summer months, your dog will be more safe (just as you will) when they wear a seat belt. A sturdy harness with a clip for the seat belt will do the trick!