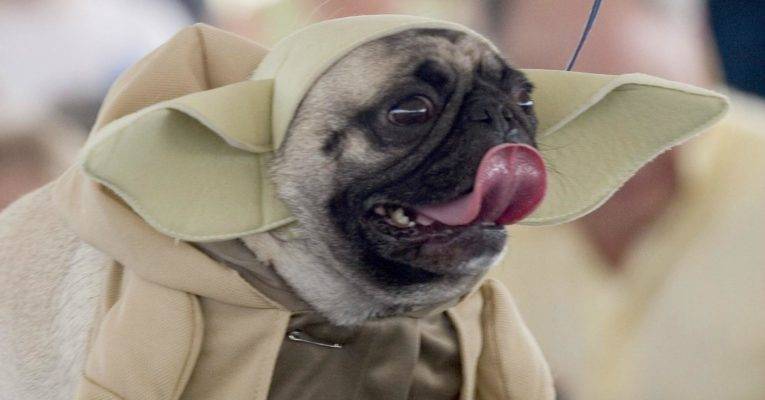 My Dog's Name, an online resource for finding dog monikers, has announced the top dog names of 2017.
It also revealed an interesting trend: a sharp increase in Star Wars-themed names!
With the release of The Force Awakens and the new film The Last Jedi coming out in December, Star Wars names have seen double-digit increases. Princess, Chewy and Finn in particular are the fastest-rising names related to the series.
As the year draws to a close, Finn – the name of the former storm trooper who joins the fight against the First Order – is up 91 percent since 2016.
That wasn't the only surprise on the list. Tried-and-true favorites like Bella, Max and Buddy still top the chart, but a number of newcomers have exploded in popularity. For example, the names Milo, Willow and Archie are on the list for the first time.
The results are based on the search selections of the 3.2 million new dog owners who have used the site so far this year.
TOP FEMALE DOG NAMES
Bella
Abby
Daisy
Luna
Bailey
Hazel
Roxy
Lola
Piper
Willow
TOP MALE DOG NAMES
Milo
Bear
Buddy
Tiger
Archie
Charlie
Teddy
Duke
Jasper
Max
TOP SPORT DOG NAMES
Ali
Scout
Dottie
Babe
Tiger
Archer
Blaze
Bolt
Boomer
Gunner
TOP CUTE DOG NAMES
Ava
Blue
Harper
Sadie
Arlo
Barkley
Barney
Scout
Coco
Zoey
TOP FUNNY DOG NAMES
Bacon
Barney
Biscuit
Banjo
Oreo
Brownie
Fifi
Toto
Waffles
Boss
TOP TV & MOVIE DOG NAMES
Winnie
Blue
Minnie
Pluto
Ghost
Odie
Bambi
Belle
Archer
Daisy
TOP TOUGH DOG NAMES
Axel
Caesar
Diesel
Koda
Pepper
Jax
Atlas
Jinx
Ripley
Bruno
TOP GEEKY DOG NAMES
Chewie
Princess
Finn
Gizmo
Cookie
Ripley
Bones
Buffy
Gidget
Mac